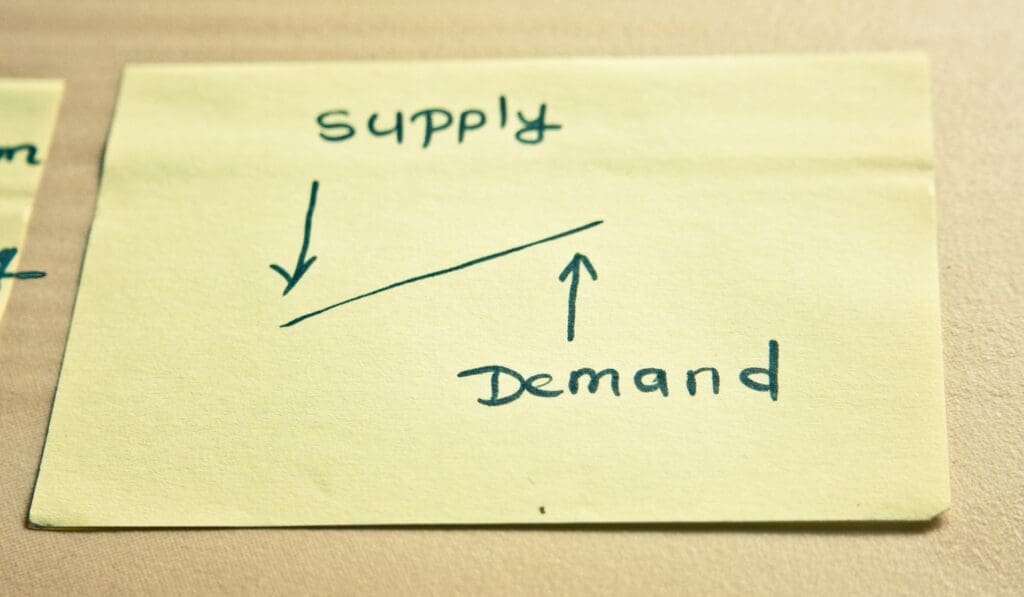 Low Low Low Low Inventory
I know, I know, I have said this all summer, but now….it's even more true!  We actually have people out there who have money, and cannot find a home to suit their needs! I have had multi offers on a listing where of the 5 offers 2 of them were CASH!  So here are a few things that happen when inventory is low……
Prices go up!  Yup that old Supply and Demand thing.  If there isn't much the price goes up!  If you are just thinking about maybe you might want to sell your house in the next 12 months, now is your opportunity get the most for it.
Values go up. Just because prices go up, doesn't necessarily mean that values go up.  I know that sounds strange, but here is how real estate works with value. Appraisers use information from 6 moths to a year ago.  A year ago, our market isn't were it is today!  So if a home is sold today for $300,000, an appraiser will go back and look at all the homes that are similar that have sold in the last 12 months.  Now, when we are in a hot market like we are now, they will sometimes go only 6 months back.  But even 6 months ago, the market wasn't as tight as it is now.  So, with prices going up, the appraisal value must meet that price.  If the data the appraisers are using is 12 months old, it's not going to appraise for its actual value today.  I hope that makes sense to you.  What I am saying is that values tend to lag behind a bit, and appraisers can only use sales comparables that have sold and closed!  In our market, we are seeing not just prices going up, but values as well. This means that our increasing market has lasted more that 6 months.
New home starts.  Usually when we see a market like this, we see an abundance of new home starts. This year, we are a little different.  Because of covid, a lot of the new home starts didn't….start! April and May are busy months for contractors, but with that nasty virus, it made things really difficult in this industry.  Builders were having that typical problem of not having enough labor to meet the construction demand.  Add to that the material shortages, and price increases we have the trifecta of a new construction shortfall for 2021.  Builders have had a terrible time this year keeping their budgets in line because materials are increasing so quickly, and their contracts already signed with new home buyers, they are having a terrible time just meeting the most modest of profit margins.  I expect to see the shortage of new construction to last into the 2021 season just because they are already behind the power curve just going into a new season.  I am comfortable in predicting that for the next 5 years, new construction will be behind.
Anxiousness to buy.  This is a result of the low interest rates.  When rates get this low, (I just closed on for 2.59%) there is an anxiety about missing out.  And sometimes, people will buy anything just because they don't want to miss out.  Now, I would not suggest that you buy "anything" but you actually may be able to sell your current home and purchase a larger home and even though you are going to pay more that home, the difference in your interest rate and being able to use your equity to use as a down payment for the new and remove the mortgage insurance, (scheesh that's a lot of words) your new and larger home may actually be the same house payment! Something to think about.
Investment properties. With rates this low, now is the time to buy an investment property.  You just cannot go wrong.  Really.  If you want to jump into that market, now is the time.  If you are a veteran, you can actually purchase a mulit family, live in one unit and rent out the other(s) and get into that multi unit market with ZERO down payment.  What, whoa, Really? Yes really!  This is the best way to start on the road to building that portfolio for yourself and your future.
15 year mortgages. Right now the rate on a 30 year and a 15 year aren't enough different to get really excited about.  However, with rates this low, you can actually increase your principle payment and take a big juicy bite out of that mortgage balance every month!  It's so, so easy.  You still have a 30 year mortgage, so if things get a little tight, you can make your regular payment, but if you can – increase that payment – you can take years off your mortgage and who wins on that one? YOU DO!
So, what to do now.  Look at family, see if you can buy a bigger more awsomer (I doubt that's a word) home and see how close your payment is to your current home. Don't miss out on rates, and know that if you do call me and put your home up for sale, it's going to sell very quickly!
So, Remember, call me if you are interested in selling or buying!  Call me, I'll be your go-to gal!